There are just too many earphones out there from various brands. They all claim to give excellent performance but most of the times the performance does not live up to the expectations. It is true that any product can never satisfy everyone especially, when it comes to sports audio gear. Everyone of us have experienced the biggest annoyance during workouts, the sweat. Almost all of us who are into fitness like to listen to our favourite music while training because it can boost our spirit to workout with sincerity. But, if the audio gear we are using just fails because of excess sweat, it is no good. You might have a pair of high quality, neutral response, expensive Sennheiser plugged into your ears and when you start sweating, you are in for a huge loss. There are quite few good in-ears that stand out for workout use and Jaybird Bluebuds X happen to be the most popular among all.
Problems Earphone Manufacturers Face
Excessive sweat is the biggest threat to fully functional earphones as it can cause permanent damage to the drivers. Long cables can be a problem during various workout techniques. Workout causes a lot of body movement and along with that the cable brushes against our body which causes tapping sound in the ear buds. This annoyance can be disturbing because you cannot hear the details in the music correctly. Many fitness freaks have built up their workout exercise that follows specific rhythm in the music they listen to. If it happens that they buy a new pair of earphones and there is this tapping noise from the cable, it is not going to be good.
Workouts can be the harshest on earbuds because they have to resist cable stretching (if we are dealing with wired earphones) and all the while stay right inside the ears without dropping out. Bluebuds will also have to deal with the comfort aspect of the ear bud, they may sit inside the ears perfectly but they can cause pain after sometime. A lot of sports ear phones offer excellent comfort and deal with the issues mentioned above, but fail to deliver good audio performance. Let us see how Bluebuds X deal with these issues.
Jaybird Bluebuds X's solutions to the problems
The Bluebuds X come with liquipel material which is basically hydrophobic material that keeps water off the ear phones. This earphone comes with Bluetooth allowing you to wirelessly stream your music from your device to your ears. When it comes to wireless earphones, the first question most people ask is how long does the battery last? According to the specification sheet, you can expect an 8 hour battery life and in reality it could last a little longer than 8 hours depending on how much volume you play your music at. But, be assured that it will ACTUALLY go on for 8 hours.
You will be amazed how well the product is designed when we go over the build review later. For now, even if we have bluetooth, there will be cables to connect your ear pieces, just not long cables that run across your torso to connect to your phone in the pant pocket. In fact the cable runs behind your head without causing any distraction.
Bluebuds X earpieces have a honeycomb grid shaped rubber shark fin ear rest which snaps inside your earlobe and prevents the ear pieces from falling apart while undergoing a serious workout session. Fitting the ear pieces in your ears to find a comfort spot can be a daunting task that can take a few minutes. To ensure full comfort, Jaybird includes 3 pairs of differently sized fins. It is very rare to find someone complain about this mechanism, but who knows the next person to complain about it might be you. Make sure you go to the store and try it on before you make a purchase.
Related: Jaybird X2 Sports Earphones
Jaybird is not the first one to bring such a mechanism, check out the Sennheiser SoundSport earphones and also the Bose FreeStyle earbuds. Both of which are amazing!
Most users actually claimed that putting the cable behind the head and snapping the earphones inside your ears actually feel very comfortable. Add to that the additional ear tips that will provide varying degree of comfort.
Build quality
You should have a pretty decent idea about the actual construction, but we will cover the points that we have missed. The cables are also coated with hydrophobic material that repels sweat. Since there is a single cable connecting the two ear pieces, it looks like a short, thick, black string. There is an in-line control and microphone module along with a battery compartment and bluetooth radio module. All of it is connected along the cable in an "in line fashion".
You could choose to wear the ear phones in "under the ear" fashion where the cable and the in line module hangs below your face, but the weight of everything will just pull your ear pieces out from your ears. Therefore, it is recommended you wear them "over the ear". The cable runs over your ear and the weight of everything rests on your the back of your neck. Also, this prevents ear pieces from falling off and you will not hear any tapping noise during heavy workout sessions caused due to brushing of cable. If you find the cable to be too short, you have the ability to extend it, which I feel is awesome.
The earpieces themselves are quite long as compared to other sports models out there. There is a micro USB charging port behind the left ear piece for charging the battery. In addition to that, the in line module has 3 buttons, one for power and 2 for volume control. Each button has more than one function which can be used by long pressing the button. Personally, I feel that the volume control should be done from the device and not using the in line controls.
You also get an nice little hard shell case that looks nice.
Audio performance
Jaybird prints the audio response curve everywhere, even the packaging, which is not very common. As you can see, in the datasheet, we get a pretty flat response except for a few ups and downs here and there which is normal for even the highest end headphones.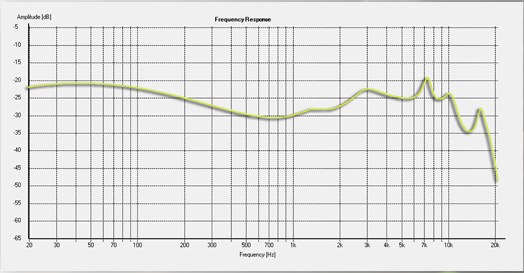 The drivers can pump out 103dB sound pressure level while maintaining distortionless sound. The bass is on the warmer side while the mids seem to take a little dip in volume and then the highs again sound up to the par. The highs are not too bright, but just right.
On the whole, the audio performance will be quite good but do not expect 100% perfection. It should satisfy your casual listening habits and if in case you need every tone to be perfect you always have these but again, those are not meant for workouts. The audio may have weird tone generated while you adjust the volume, but that is not something to be concerned of.
Conclusion
Most mainstream earphones out there have a huge swag quotient, but rarely do they perform well in the audio department. Jaybird Bluebuds X became mainstream when they become super popular on Amazon and other online stores, but what sets it apart is above average audio performance added with a wonderfully designed body. They were priced at $169 originally, but now they are available for $124. So, go get them and you won't be disappointed.
[toggles behavior="toggle"]
[toggle title="Places To Buy" expanded="in"]
United States: Target, Amazon, Newegg, bhphotovideo
Canada: Amazon
International
[/toggle]
[toggle title="Quotes"]
I love that I can wrap them up around the top of my ears or hang them loosely below.
Once a week for charging is completely up to par.
very comfortable and it wont come out.
They have a small footprint. Jaybird was able to package a lot of technology into a very small footprint.
[/toggle]
[toggle title="Specification"]
Audio Type: In-Ear Style
Noise-isolation: Passive
Impedance: 16 Ohm
Speaker sensitivity: 103 +-2dB At 1KHz
Output 12mW RMS (with level limit)
Total Harmonic Distortion <5% (1KHz, 1mW)
Audio Format: 16-bit Stereo
Codec: Shift™ custom SBC implementation
Response Bandwidth 20-20000Hz
Integrated Microphone Type: MEMS omni-directional (2.75 x 1.85 mm2)
Sensitivity: -38 dB + /-3dB (1KHz, 0dB = 1V/Pa)
Bluetooth Version: Bluetooth Class 2.1+EDR
(Newer versions offer no benefits for headphones
as BLE, Bluetooth Low Energy, is not adequate for
streaming high bandwidth stereo music)
Frequency Band: 2.4 GHz
Profiles: Handsfree 1.6, Headset 1.1, A2DP 1.2, AVCRP 1.4
No of Paired Devices: 8
BlueBuds X supports pairing of 8 devices supporting
Handsfree & AVRCP profiles (such as iPad & iPhone),
with ability to manually toggle connection between
the devices from the Bluetooth device list of your
Phone/Music device (connection to one device at a
time). You DO NOT need to delete and re-pair your
devices each time, they are remembered and ready
to connect at anytime.
Pairing passkey: 0000
[/toggle]
[toggle title="Sources"]
[/toggle]
[/toggles]
Conclusion
Unlike most other mainstream swaggy earphones, Jaybird Bluebuds X performs exceedingly well in the audio department.
Positives
Sweat repellent
Strong construction that won't break easily
Well thought out design and cable management
Long battery life
Above average audio performance
Fits snugly and does not fall off even during rigorous workout
Low distortion even at high volumes
Mic works great even when at the back of your neck
Negatives
Weird tone while adjusting volume
Multi function buttons could be painful to use